Welcome to The Convenient Bride Blog Hop!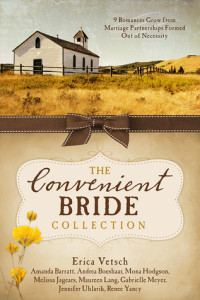 We hope you'll enjoy getting to know the nine authors and their novellas included in The Convenient Bride Collection.
I thought it would be fun to look at some of the story inspiration behind my novella, Keeper of My Heart.
The end of the American Civil War
left many women–mothers, wives, sisters, and daughters grieving the loss of their loved one. The war left many soldiers mourning the loss of their brothers, fathers, sons, comrades, and their own innocence.
Those faced with rebuilding their war-torn lives, included the Saint Charles Quilting Circle, whose stories are told in The Quilted Heart ~ 3 novellas in 1 book.
This writer is inspired by men and women, who shared their stories or at least snippets of them in letters and journals.
Stories from the Oregon Trail got me to wondering . . . what if some of those women from the quilting circle chose to rebuild their lives out west?
Prairie Song is the story of men and women who set out from Saint Charles, Missouri, with family, load wagons, oxen, and livestock in search of a fresh start…a new beginning. In this installment, The Boone's Lick Wagon Train Company make it as far as For Kearney, Nebraska.
Neelie "Shott", the heroine in Keeper of My Heart, is headed for San Francisco, where she's been promised a job in a Wild West Show.
When Neelie set out on the road going West, she thought she knew where she was going. That was before she encountered The Boone's Lick Wagon Train Company and

the widowed, spine-stiffening wheelwright named Ian Kamden.
Nor had she met his five children. As it turns out, Maisie, the youngest, is fond of picking black-eyed Susans and awarding the bouquets to those she loves.
The path you set out on isn't always the one you end up taking.
Join Neelie, Ian, Maisie and the others on their quest for a fresh beginning in Keeper of My Heart.
Please enter our raffle below, and follow me on Facebook and Pinterest, and sign up for my newsletter to keep you up-to-date on book and giveaway news.
HERE'S THE BLOG HOP SCHEDULE FOR THE WEEK!
Monday, July 6th
Gabrielle Meyer www.gabriellemeyer.com & Mona Hodgson www.monahodgson.com/blog
Tuesday, July 7th
Renee Yancy www.reneeyancy.blogspot.com
Wednesday, July 8th
Erica Vetsch at Coffee Cups & Camisoles blog http://coffeecupsandcamisoles.blogspot.com/
& Jennifer Uhlarik www.monahodgson.com/blog
Thursday, July 9th
Amanda Barratt www.gabriellemeyer.com
Friday, July 10th
Melissa Jagears www.inspirationalhistoricalfiction.com
I hope you'll stay connected with me online: